Harry S. Truman responds to McCarthy, 1950
A primary source by Harry S. Truman
View this item in the Collection.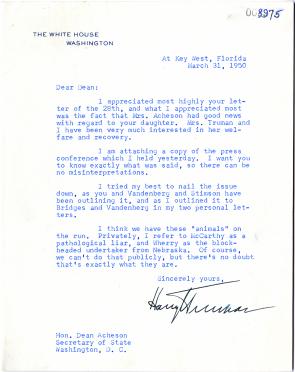 In February 1950, Senator Joseph McCarthy alleged in a speech in West Virginia that more than 200 staff members at the Department of State were known to be members of the Communist Party. During Harry Truman's press conference on March 30, the President characterized McCarthy's behavior as a Republican attempt to "sabotage the bipartisan foreign policy" and McCarthy as "the best asset that the Kremlin can have." A transcript of that press conference is available at the American Presidency Project.
In this personal letter to Secretary of State Dean Acheson written the following day, Truman first sent his best wishes for Acheson's daughter Mary, who was recovering from tuberculosis. Truman concluded the letter with a condemnation of McCarthy and Senator Kenneth Wherry, the Republican leader in the Senate:
I think we have these 'animals' on the run. Privately, I refer to McCarthy as a pathological liar, and Wherry as the block-headed undertaker from Nebraska. Of course, we can't do that publicly, but there's no doubt that's exactly what they are.
For Truman, Acheson was a loyal and vital member of the government and McCarthy was merely a partisan bully exploiting Cold War fears. McCarthy's rampant accusations of disloyalty and communist sympathies continued until his attempt to discredit the US Army backfired. In 1954, the Senate voted to censure McCarthy.
Questions for Discussion
You are seeing this page because you are not currently logged into our website. If you would like to access this page and you are not logged in, please login or register for a gilderlehrman.org account, and then visit the link that brought you to this notice. Thanks!
Metadata
Make Gilder Lehrman your Home for History
---
Already have an account?
Please click here to login and access this page.
How to subscribe
Click here to get a free subscription if you are a K-12 educator or student, and here for more information on the Affiliate School Program, which provides even more benefits.
Otherwise, click here for information on a paid subscription for those who are not K-12 educators or students.
Make Gilder Lehrman your Home for History
---
Become an Affiliate School to have free access to the Gilder Lehrman site and all its features.
Click here to start your Affiliate School application today! You will have free access while your application is being processed.
Individual K-12 educators and students can also get a free subscription to the site by making a site account with a school-affiliated email address. Click here to do so now!
Make Gilder Lehrman your Home for History
---
Why Gilder Lehrman?
Your subscription grants you access to archives of rare historical documents, lectures by top historians, and a wealth of original historical material, while also helping to support history education in schools nationwide. Click here to see the kinds of historical resources to which you'll have access and here to read more about the Institute's educational programs.
Individual subscription: $25
Click here to sign up for an individual subscription to the Gilder Lehrman site.
Make Gilder Lehrman your Home for History
---
Upgrade your Account
We're sorry, but it looks as though you do not have access to the full Gilder Lehrman site.
All K-12 educators receive free subscriptions to the Gilder Lehrman site, and our Affiliate School members gain even more benefits!